LINDSEY
HAGEN
IMAGINE︎IGNITE︎INSPIRE
BOULDER/CO.
︎
ABOUT
Lindsey Hagen is an Oscar qualified Director, Executive Producer and Development Executive with a focus on cause related storytelling. Lindsey has a background in sales and marketing, journalism, brand strategy and documentary filmmaking. She leads a successful career ideating and pitching meaningful stories to brand and network partners, creating compelling human centered films and campaigns.
Lindsey currently leads development efforts at gnarly bay studios based in RI and CO.
Lindsey's films have gone onto Oscar qualifying festivals like Tribeca, Cannes, DocNYC, BigSky and Outfest and have won numerous Staff Picks and Telly Awards. Her film "After Skid Row" Oscar Qualified in 2023 and was aquired by The LA Times Short Docs program, her film "California Natural" was nominated for the James Beard Commercial Media Award and her short documentary "High Road" was voted Vimeo's Best of Year in the branded film category.
"I believe strongly in the power of human connection and I try to share stories that unite us through emotive, vulnerable narratives.
As a participant in media my role is to imagine possibility, ignite curiosity and inspire action."
Lindsey@gnarlybay.com781-635-2212
︎

︎
CLIENTS
|THE LA TIMES| |SKOLL FOUNDATION| |DICKIES| |FACEBOOK| |AMAZON| |GOOGLE| |NIKE| |REI| |TARGET| |CONDENAST| |WALLSTREET JOURNAL| |IKON PASS| |SAMSUNG| |NEW BALANCE| |MERRELL| |ASICS| |OUTSIDE MAGAZINE| |TIFFANY & CO| |VARIETY| |AIRBNB| |MAZDA| |CANADA GOOSE| |HYPEBEAST| |REDBULL| |BERKSHIRE HATHWAY| |ADIDAS| |THE NORTHFACE| |YETI| |COLUMBIA| |SPYDER| |CHACO| |GATORADE| |UNDER ARMOUR| MEDIA
STAFF PICK PREMIERE: "Ode to Desolation:
By Lindsey Hagen ︎

"Make films on the stories you want to see more of in the world. As participants in media we help shape the future with each message and story we share. There are a lot of amazing unsung heroes doing good in the world, help lift them up with your talents and you can contribute to the change to want to see."
BRAND FILMLIVE "FINDING THE RIGHT PARTNER" ︎
Filmmakers are looking for ways to share their untold stories and brands are looking for creative minds and great stories that align with their purpose. It's a match made in heaven when formed with the heart of the story in mind. Lindsey Hagen, Executive Producer and Head of Creative Development at Stept Studios, shares insight into how a great brand partnership can form while honoring those who are sharing their stories.
AUTHENTICITY IN THE OUTDOORS ︎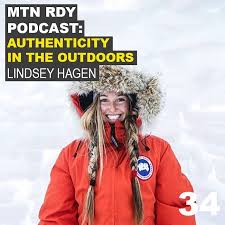 This week we chat with the brilliant Lindsey Hagen - Lindsey is the Executive Producer at Stept Studios. She has Produced Films such as Adventure Not War
Adventure Not War
&
Ride of the Dead
Lindsey sees the scope of her work through a different lens and has a gift of shaping the narrative and the power of telling a story. We talk about the duty we fill as media "participants" and the struggles of maintaining authenticity and humanity amidst marketing and sales objectives, especially in the branded content space. We also connect on how the more openly we share our stories, the more unified we can become as global citizens. Being vulnerable to working on projects such as these and listening from the heart center is how these stories share such raw emotion and are sensitive to all people involved. I highly encourage you to listen to this Podcast if you manage in any field of work.
HOW A PRODUCER PULLED OFF A FILM AT 19,000FT ︎
Defining the role of a producer is like trying to hit a moving target. One day they may be drumming up funding and the next day they may be booking flights for their team. Or, in Lindsey Hagen's case, doling out ginseng tablets to help prevent altitude sickness and climbing a 19,000-foot volcano in Ecuador. As the executive producer on La Cumbre, she played a decidedly hands-on role from start to finish. In fact, she formulated the film's concept herself on a 3-month hike across New Zealand. Her goal: to bring a group of adaptive athletes to a region where "adaptive athlete" wasn't even in the vernacular.
ROAM MEDIA- "RESHAPING THE MEDIA LANDSCAPE" ︎
Amidst a vast sea filled with largely empty, meaningless media, the frustrated cries of consumers—the audience—may seem totally drowned out. But that's not the case. Lindsey suggests that brands are responding to those cries, albeit slowly. "The viewer dictates the demand," she said, "And the brands will pay for the outcome. As consumers, it's our duty to demand more of what it is we want to see in the world, and to hold brands and advertisers accountable."
TRAILBLAZERS & TRENDSETTERS ︎
Lindsey Hagen is an adventurer, filmmaker, and executive producer at Stept Studios in Los Angeles. In 2016 she thru-hiked the Te Araroa Trail in New Zealand. Her travels have taken her from the streets of Oaxaca in Mexico, to the frozen lands of the Arctic Circle, and beyond. Inspired by both tragedy and a desire to share meaningful messages with the world, Lindsey's exploits have showcased the truest connections of the human spirit.
ARTFUL HONESTY︎
Lindsey Hagen- On being an executive producer, film and storytelling, and self awareness in helping you discover and pursue goals. In this episode, we talk about the importance of storytelling, how this communication is the core of what makes us human, and why it's important to do it authentically, artfully, and honestly. She tells us some steps that helped bring her from her previous job to a job full of purpose and fulfillment, telling stories that create opportunity for people, and all of the hats that fall under her title.
PR WEEK: "Brand Films Can't Sugar Coat The Truth"︎
NEW YORK: Just as sticking to safe stories can be death to creativity, brands have to challenge themselves and their audiences with the films they make, according to a group of panelists at the PRWeek U.S. and Campaign U.S. Brand Film Festival New York on Thursday.
"If you take on that subject matter, you don't sugarcoat it," said panelist Lindsey Hagen, executive producer of branded content at Stept Studios.
Sr. Director Brand Marketing, Canada Goose

Lindsey and I met through a chance encounter and an idea she had for a story the world needed to hear. To this day, we've never been in the same room together and yet she has my trust and confidence after experiencing her professional, collaborative and relatable approach first hand. Working with Lindsey was one of the easiest creative projects I've ever been a part of. Her leadership across all aspects of the production ensured our vision came to life in a way that exceeded expectations. I'm extremely proud of the work and look forward to the next opportunity of working with Lindsey and her team.

James Fisher


Executive Producer, RedBull Media House

Working with Lindsey and her team has been a fucking pleasure! Every project we enter is an adventure in the best way possible. Her creativity is endless but even more important is the ability to deliver on the overall goal all while maintaining the highest level of professionalism. Lindsey goes to the end of the Earth (no really, she'll go anywhere) to produce and direct projects ranging from an all-girls motorcycle club to a group of misfit adventures in the heart of Moab.
Regardless of the client demands Lindsey finds a way to tell an authentic, original and highlight engaging story. Her commitment to telling the story proper comes through in every project we've worked on together. Her level of involvement with the project doesn't end at delivery, she's taken several projects to the next level touring them at various film festivals helping the Brand extends its investment into the project.
To this day, a phone call I had with Lindsey still stands out above the rest, I'm still in awe of her ability to adapt. While she was deep in the heart of Mexico City about to embark on a journey to the Oaxacan Mountains she had to make some critical decisions on the fly including getting her crew to the desired location safely. The story she went down there to produce completely fell apart a day before they were set top shoot. What happened? They came back with open of the most successful and highly regarded Red Bull projects in years. This says it all about Lindsey and her abilities as a Director and Producer.
I am looking forward to watching Lindsey's career unfold as there is no doubt her future is bright! One thing is for sure, I'll be watching when she steps on stage one day to accept her Oscar for Best Documentary!
Nate Hoppes